Autumn… wait, what.
I'm not sure about you, but I can't quite believe October is upon us.
September is usually a good month for me to catch up on various Society activities, and one of those has been some interesting conversations with one of our original 30+ year household members.
Dave & Val hail from our Plymouth Section, and from the sounds of things are seriously better read than me - so much so that I've asked Dave to put together a 'Top 10 Koi Reading List.'
For me and certainly Dave & Val, taking the time to read something, instead of Google'ing it, or hearing some fourth hand piece of wrong information is far more rewarding - I hope to feature this in October or November's blog.
In Society and Show news; proactive conversations continue to take place with the Judging Standards Council (JSC), and our National Show Committee (NSC) have now filled all open committee positions - great to see.
In speaking to Allan last week; I was also really pleased to hear that we have some new Trainee Judges - I wish them all well in their journey and I'll look to provide further clarity in a future blog.
Our show committee have also released next years show dates; worth remembering that 'The National' is the UK's longest running koi show, with 2024 being the 44th edition - 29th & 30th June 2024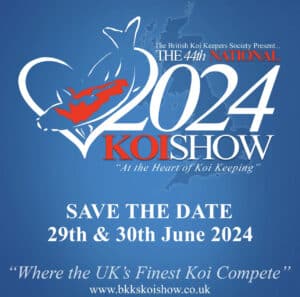 I alluded in June's Blog the need for accuracy and clarity, in relation to show awards and judging standards. Our committees are working to ensure our operating procedures for show awards are not only correct, but clear to all.
I would also urge all Show Admin's to ensure they have accurate and up date award procedures (we call these SOP's) lodged with the JSC - give me a shout if you need further clarity, if I can't help I can put you in touch with Allan Tait.
We also hope to kick off a piece of work with the provider of Koi Show Pro (KSP), given there are a few issues myself and other Show Admin's would like ironed out.  All shows should be making every effort to ensure data (fish or other) is managed and displayed correctly, ensuring exhibitor confidence and accuracy - we must place equal priority on both exhibitors and they're fish.
As a quick reminder; don't forget 2024 ushers in changes to our show size classifications, you can find further information in April's Blog.
In other news, September wouldn't be September without the All England Koi Show (AEKS).
A great weekend spent with Koi Zanmai and Liam, from World of Nishikigoi. Johan and Jimmy made the trip over from Belgium, as did a number of the South East Club's European friends.
The South East have a long history with the N.V.N. in Holland, if you haven't visited the Dutch N.V.N. Koi Show in Arcen, you really should.
Luke Warren secured GC at the All England with a Dainichi Koi Farm Kohaku, supplied by Select Nishikigoi International.
Liam not only produces World of Nishikigoi magazine (head over, and check that out), Liam also runs a Blog himself - where you can find all the news and awards.
The end of September brings the curtain down on our show scene. However, in Japan harvest and show season begins. If you're lucky enough to be planning a trip, have a wonderful and rewarding experience.
I'll be back next month with some further updates, and hopefully some reading materiel to keep you occupied, just in time for our clocks to go back!
Stay safe, and enjoy the hobby.
Feel free to get in touch via chairman@bkks.co.uk