Show VAT Information
The National Show Committee takes great care with both vat setup and show ground water quality. We offer the choice of a 2.5 or 2.8 metre vat catering for different exhibitor requirements.
As you would expect we provide the most comprehensive set of water readings available at any UK Koi Show; pH, dissolved oxygen, ammonia & temperature.

We utilise calibrated Hanna equipment with multiple individual daily vat readings. Our Benching Admin Team then take over ensuring results are correctly entered into Koi Show Pro.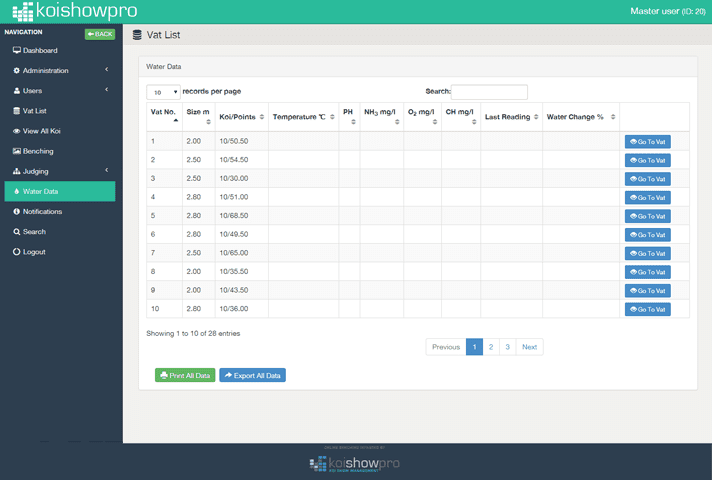 Koi Show Pro (KSP) instructions are provided to all exhibitors. Exhibitor water test results usually available via KSP online dashboard
Instructions for online benching via KSP and our Exhibitor Information Pack are provided 6-8 weeks prior to the show
Yearly analysis of individual water parameters provides us with the data to maintain optimum vat environments for all exhibitors fish across the show weekend.
We set parameters for both maximum fish (in a vat) and also maximum vat points (based on fish size):
Maximum Fish Per Vat
In a 2.5 metre vat, maximum allowed fish - 14
In a 2.8 metre vat, maximum allowed fish - 17
Vat Points (maximum)
We have a vat points system for both 2.8 and 2.5 metre vats, the maximum points value for each vat should be used when planning which fish to exhibit.  You must not exceed these points when Benching (Friday), should that happen, we will ask for those fish to be returned to their home pond.
2.5 metre vat - 41 points
2.8 metre vat - 51 points
Points are accorded by size, these are:
Size 1 = 1 point
Size 2 = 1.5 points
Size 3 = 2 points
Size 4 = 3.5 points
Size 5 = 6 points
Size 6 = 9 points
Size 7 = 13 points
Size 8 = 16 points
Vat Setup
After their Virkon scrub, careful placement and dividing splash screens fitted at the correct height, each vat is continually dechlorinated using a trickle in/out approach (flow rates can be adjusted accordingly).
Four large air-stones maximise O2 saturation and as we are an outdoor show ample shade netting is also in place.
Please take a look at the standards and rules we adopt in the section above.
If you require further information please contact showvats@bkks.co.uk.